T • C
   ATTENTION : CLEANING REQUIRED !   

This Article may not meet BPWikia's Standards and may contain Outdated or Incorrect Information.
You can help by Cleaning this Article.
Overview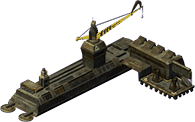 "

Designs and constructs ships.

"

 

— In-game Description 
Building Progression
Level 1
Level 2
Level 3
Level 4
Level 5
Level 6
Oil
1,200
11,000,000
62.8 M
Metal
3,400
22,000,000
125.6 M
Energy
3,000
26,400,000
150.8 M
Zynthium
480
11,000,000
62.8 M
Time
32s
8d 16h
8d 16h
Time With Officer
29s
7d 19h 30m
7d 19h
Requirements
An Outpost
A Dock
Level 10 Naval, Weapons
and Advanced Labs
Level 11 Naval, Weapons
and Advanced Labs
Information
The Shipyard allows a player to build ships with a variety of hulls, armors, and weapons.
It can take the shipyard anywhere from a few minutes to a few weeks to assemble a new ship.
There is an online Ultimate Shipyard, that is not affiliated with Kixeye, but which is usually kept up to date; and can be used to design ships and fleets at (http://www.feralland.com/bp/)), or (http://www.dahippo.com/bp/ship/).
Upgrading will also reduce the weight of existing ships, see below on Ship 2 and Ship 3
Additional Facts
Level 2 Upgrade: More efficient ship construction miniaturizes components and gives you a 15% weight saving on only Forsaken weapons and Forsaken armor including those ships already built.
There are no savings on hulls, specials, or Non-Forsaken (Draconian and Reaver) weapons and armor-- except for Ship 3, check it out:
Level 3 Upgrade is new as of Oct. 2015
What benefits are there in Shipyard 3:

9% weight savings on Drac weapons & armor! Very helpful indeed.
15% savings on Forsaken (same as Ship 2)
Animated Photo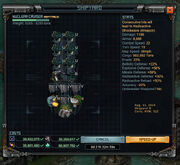 Gallery
Video
Related Pages
Community content is available under
CC-BY-SA
unless otherwise noted.