T • C
   ATTENTION : CLEANING REQUIRED !   

This Article may not meet BPWikia's Standards and may contain Outdated or Incorrect Information.
You can help by Cleaning this Article.
Overview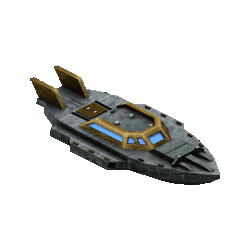 "

Small and highly maneuverable, Gunboats cover large distances quickly.

"



 

— In-game Description 
Stats
Weapon Slots
1
Armor Slots
1
Special Slots
0
Armor Points
10
Max Weight
31 tons
Evade Bonus
33%
Combat Speed
22
Turn Speed
60
Map Speed
50
Underwater Weapons ?
Yes
Refit-able
Yes
Research
Requirements
n.a.
Time
n.a.
Oil
n.a.
Metal
n.a.
Energy
n.a.
Zynthium
n.a.
Build
Base Time
30s
Oil
265
Metal
159
Energy
133
Zynthium
99
External Links
Additional Facts
The first hull the player has access to build when they start the game.
It is a light and fast ship best used for scouting due to its speed, limited weapons and armor.
Usually used as a flagship with subs or to disguise the true power of a fleet but incapable of doing significant damage to opponents.
It is a light ship that can only hold 31 tons.
The best armor you can get for it is steel level 1 (due to weight), while the best weapon is the thud cannon level 2 (assuming you are steel 1 or no armor).
Rogue Crew Radar Runners gives +3,000% to gunboat damage.
Gallery
Video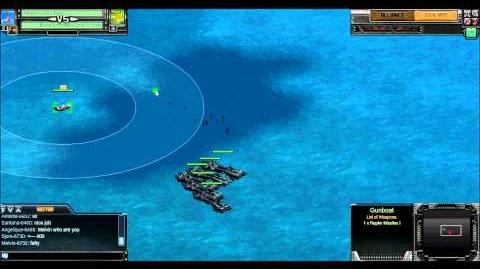 ---
HUB
---
Gunboat • Skirmisher • Longship • Marauder • Predator Submarine • Battle Barge • Arbiter • Leviathan •
Sea Wolf • Stalker Submarine • Sea Scorpion • Floating Fortress • Hammerhead
---
Battle Barge A • Leviathan A • Sea Scorpion A • Floating Fortress A • Hammerhead A • Hammerhead B • Barracuda • Goliath • Spectre • Super Fortress • Hurricane • Triton • Harlock's Triton • Thresher • Mercury • Stingray • Zoe's Stingray • Mauler • Vanguard • Mako • Rampart • Vindicator • Sawfish • Atlas Carrier • Harlock's Atlas Carrier • Lightning Carrier • Nash's Lightning Carrier • Avenger
---
Corvette • Frigate • Destroyer • Destroyer X • Destroyer ECM • Light Cruiser • Light Cruiser X • Battlecruiser • Battlecruiser X • Battleship • Juggernaut • Juggernaut X • Strike Cruiser • Strike Cruiser X • Missile Cruiser • Missile Cruiser X • Interdictor • Vassago's Interdictor • Viper Interdictor • Dreadnought • Dreadnought X • Spader's DNX • Reaper • Guardian • Nuclear Cruiser • High-Lander's Nuclear Cruiser • Greta's Nuclear Cruiser • Enforcer • Nighthawk • Phantom Nighthawk
---
---
---
Hellstrike • Berserker • Grimshine's Berserker
---
Reaver Mothership • Reaver Defense Hulk • Reaver Scout • Reaver Mothership Drone •
Charon • Elite Salvage • Rad Shockwave